Free webinar: How to raise more with signature fundraising events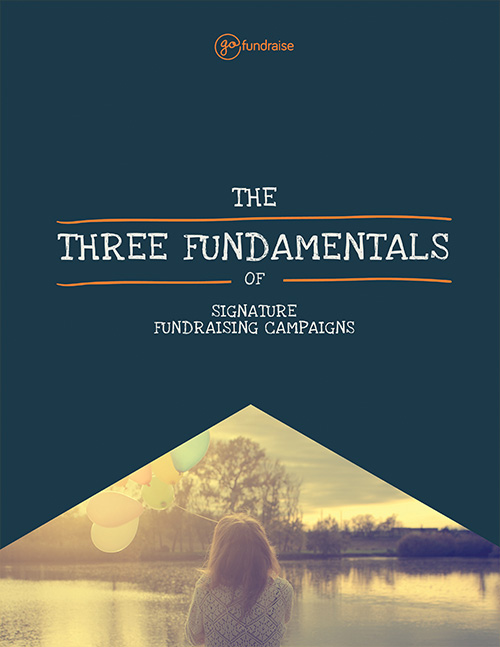 Charities can boost their revenue and reputation by running an event they become known for. Learn how to develop your organisation's own signature event at the free webinar GoFundraise will host on June 19.
So, you want to create a signature fundraising event?
Unlike D.I.Y. or third party events like city fun runs benefiting multiple charities, these are events that are managed and owned by the organisation participants are raising money for. They can be cake bakes, dinners, sporting events or challenges like growing a moustache, and can become a key milestone in your organisation's annual fundraising calendar.
The boost to reach provided by mobile phones and social media in particular can rocket a signature event into the public's attention – like the Cancer Council's Biggest Morning Tea or the Leukaemia Foundation's World's Greatest Shave. This will not only build momentum that helps you raise more and empowers your organisation to grow. It can revolutionise the reputation of your charity and your cause.
But the steps for launching a signature event have a specific timeline and the risks need to be carefully considered and managed to make the most of the opportunity. Also how can you tap into the power of mobile and social, even if your organisation is small?
Charities can find out in a free webinar on 'How to raise more with signature fundraising events' that will be hosted by peer-to-peer fundraising platform GoFundraise on June 19.
This interactive 45 minute session will share insights about signature events learned by the platform, which has now processed over 1.1 million charity donations from fundraisers and donors.
Webinar: How to raise more with signature fundraising events
When: Friday 19 June at 10.00am - 10.45am.
Cost: Free
Topics covered:
What is Signature fundraising?

Where does it fit in the fundraising events landscape?

Planning your Signature fundraising event

Getting effective tools in place

Marketing and Communicating your events

New technology systems to create Signature Fundraising events